Kingston Ringers tower tour of The Wirral (16-18 June 2023)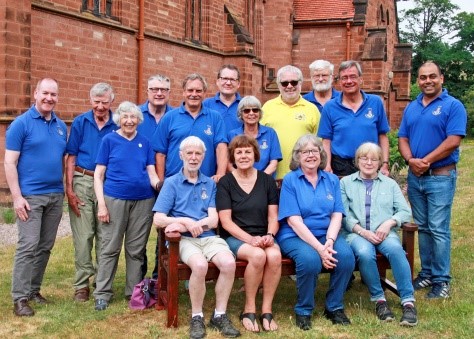 by Gavin Collins
Ringers from All Saints church in Kingston made the long cross country journey to The Wirral Peninsula for their annual bell ringing our in June 2023. The idea for the tour came from Dwenna Georges, a former resident of Burton-in-Wirral who learned to ring in the area.
Dwenna describes her association with ringing as follows: "My husband had the idea that we should take up bell ringing as a pastime, and at first I came along with him to our local church to learn. But the learning opportunities were limited there, so to broaden our ringing skills, we would visit other churches so we could improve, and so I got to experience bell ringing all over the Wirral". It soon became apparent to the Kingston Ringers that it would be a good idea to tap into Dwenna's local knowledge so as to plan this year's tower tour, which she did with great success!

The plan allowed for a tour of nine towers, which started with stop on the way at St Mary's church, Nantwich which provided Paul & Kate Flavell of the Surrey Association a chance to revisit a church they had rang at 40 years ago, and to meet up with a old friend and former ringer at Kingston, Martin Turner, who would join us on the tour.

The red sandstone church at Nantwich been described as "great architectural treasure" and is decorated with ornate stone carving both inside and out, and the eight bells set in a magnificent octagonal tower are definitely worth the journey for any ringer with an interest in architecture and ringing in beautiful surroundings.

At the end of our long journey we arrived just in time to join the evening practise at St Michael's church, Shotwick were we met a friendly band from Bangor who were also touring the area. With only 6-bells to ring and 14 ringers in the tower, it was a good opportunity to have a good chin wag with our fellow ringers and exchange notes about the ringing in Surrey and north Wales.

The second day of our tour involved a visit to six towers:
Eastham, Port Sunlight, Woodchurch, Thurstaston, Heswall & last but not least, Burton-in-Wirral. St Mary's church, Eastham is another red sandstone church, but it was the thousand year old Yew tree growing in the churchyard that captured the imagination of Judith Robinson, probably because they have both aged so well and look so young and vigorous!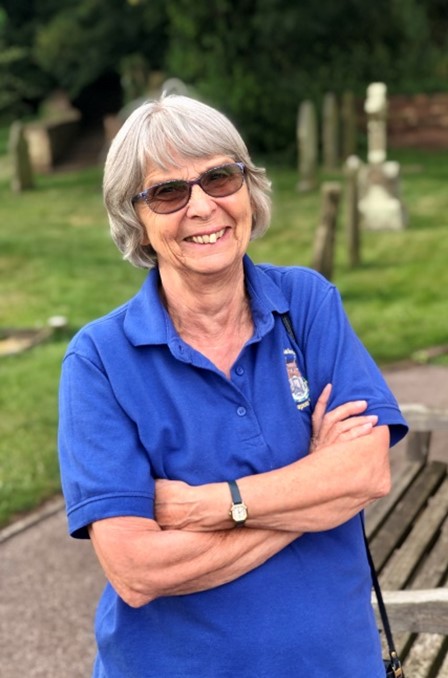 Back to where it all began: Dwenna Georges at her tower of origin, St
Nicholas' church, Burton-in-Wirral.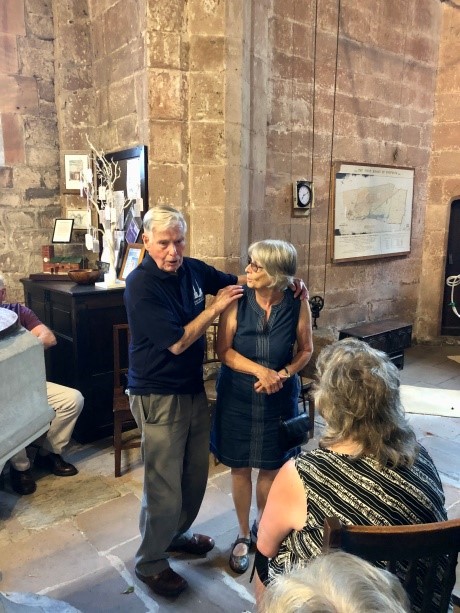 Judith and her husband David also have a connection with The Wirral: "Shortly after David and I got married, we lived in a tiny cottage on the banks of the Mersey while we were waiting to move into our first house which was still under construction. I remember the spectacular views and huge ships sailing down the estuary, but it was not my idea of a good place to live, as the smell of chemicals from the nearby refinery where David worked was very strong".
The chemical industry has been a big employer along the Mersey since Victorian times, and next church on our list is Christchurch, Port Sunlight which was built as part of the model village created by Lever Brothers whose business later merged with Unie Margarine of the Netherlands to form Unilever.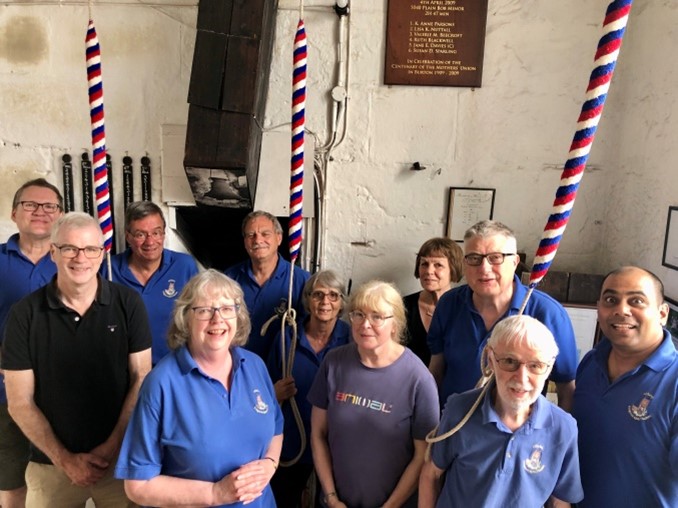 Roshan Jathnna who a church warden at Kingston was very impressed by the bell tower at Port Sunlight: "The ringing chamber is spacious, with seating on every side, and their filing system is situated behind the benches looks is so neat and ordered". Clearly Roshan has ambitions to introduce a similar system to Kingston!
Whilst we visited Port Sunlight, another notable ringer and Ruth Blackwell joined the tour. Like Dwenna, Ruth used to ring at St Nicholas church at Burton-in Wirral and there is a ringing board there commemorating a peal of Plain Bob minor she rang there in 2009.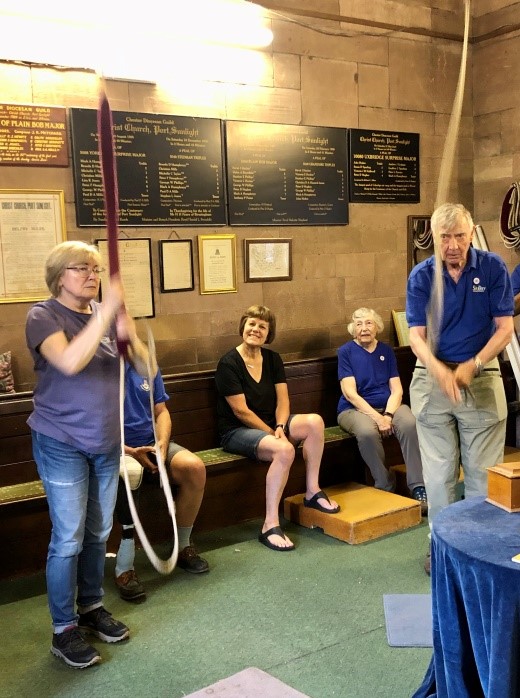 On the last day, we visited Chester Cathedral where we were able to join the service ringing for Sunday morning service. The bells at Chester are located in their own dedicated bell tower situated at the corner of the Cathedral gardens, with a spacious and comfortable ringing chamber.
Before heading home, we crossed over the border into Wales to ring
at St Peter's church, Ruthin. Overall is was a great tour, and sets a
high bar in terms of the variety and quality of the bell towers we visited.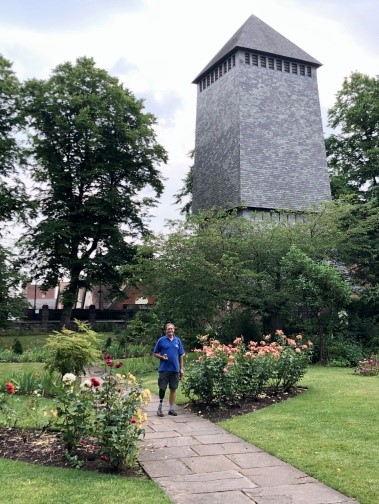 You can see all of the photographs and stories from the tour on the Kingston Bell Ringers Instagram page and in the gallery below: