To outsiders, bell ringing can sometimes seem like a very mysterious art. However, it is not as mysterious, nor as difficult, as is often thought. As you have read this far, we assume that you have some interest, and we would be delighted to welcome you to the tower on one of our practice nights, when you could watch us in action, have a look at the bells, and try ringing for yourself. Come along and see what goes on!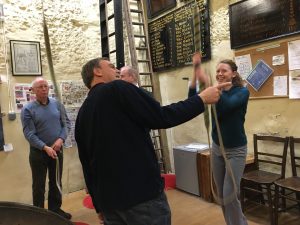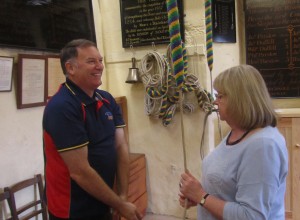 Bell ringing is a wonderful hobby with so many facets to it that there is something of interest to everybody, including:
Team work – working as a team to ring changes
Physical exercise – ringing is a technique that involves physical exercise and a sense of timing, but doesn't require brute strength
Music – creating the changes and permutations bell ringers call music
History – history of bells and churches
Travel – opportunity to visit lots of wonderful churches and little villages (including the pubs!)
Social – bell ringers are very sociable people enjoying barbeques and dinners together; as a ringer you will be welcomed in almost every tower in the country
Computing – to generate and prove the changes we ring
Engineering – maintaining the bell fittings
Friendship – bell ringers have friends all over the world where bells are rung English style
Continuous learning – even ringers with over 50 years of experience can still learn new methods

Learning to ring church bells is a structured process that takes a number of sessions for you to be competent at 'handling' a bell. Ringing is suitable for anyone from the age of around 12 and over. If you are sufficiently coordinated to catch a ball you should be able to learn to ring. Once mastered, practice enables the ringer to become more confident and gain great satisfaction from ringing. You don't have to be a believer or a church goer.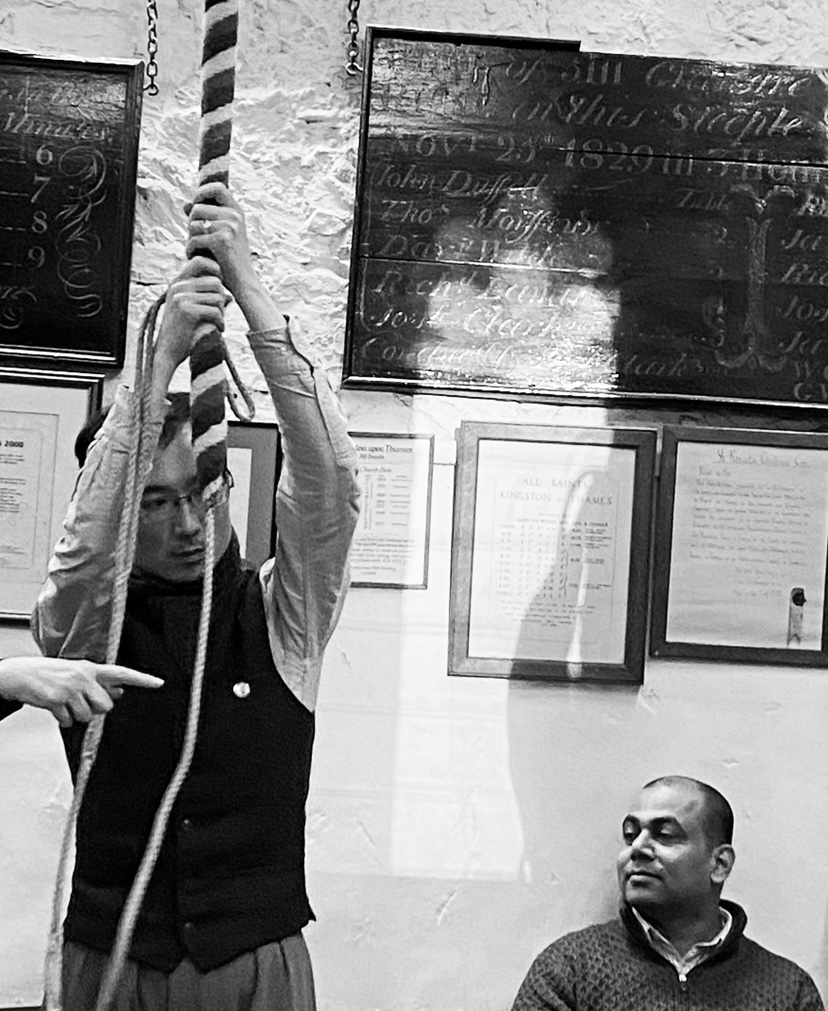 We practise on Wednesday evenings, starting at 19:45; we warmly invite you to come along and join us. You can see how to find us here and if you wish to contact one of us in advance, just to make sure that we will be meeting that week please do so here or check the latest news on the right.
We would very much like to see you – remember, if you have the energy to climb the tower stairs, and the coordination to catch a ball, you can learn to ring.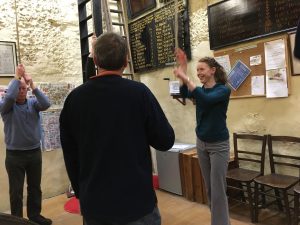 Meet the band and read some of the stories of our learners to find out why they took up ringing. And find out about our socials too.