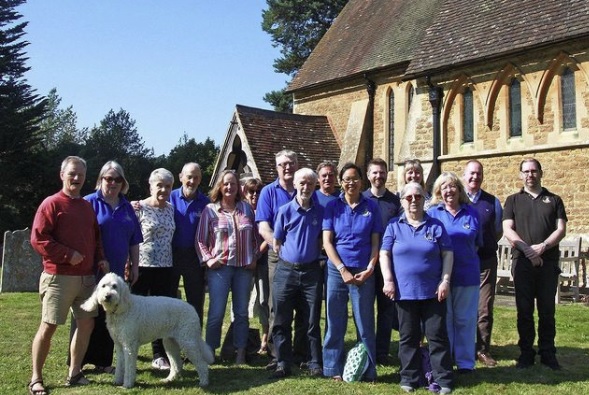 Following the disappointment of cancelling all our ringing, including a planned trip to the Wirral, during the Covid lockdowns, the Kingston ringers were determined to have a little outing this autumn. It was good to see so many of our ringers on the outing as well as welcoming Caroline and Michael from Sevenoaks and their dog Bella.
After admiring the magnificent Cedar of Lebanon tree in the church yard, we rang the tuneful Gillett eight at Cranleigh to rounds and call changes, Stedman Triples and Cambridge Surprise Major. Their tenor is 17cwt but the bells felt heavier and slower than our own back 19cwt eight. 
Lunch was taken in the White Horse pub in the pretty village of Hascombe. Hascombe bells (3cwt tenor – lighter than our treble!) and the tiny ringing chamber proved to be quite a contrast to Cranleigh but our ringers did well in both towers.  After rounds and call changes and Grandsire Doubles, we finished with a 120 of Stedman Doubles and a lower.
We rewarded ourselves with a cream tea at Winkworth Arboretum. 
Many thanks to the ringers of Cranleigh and Hascombe for their kind hospitality and to Paul for organising the outing.