Saturday 29 June 2019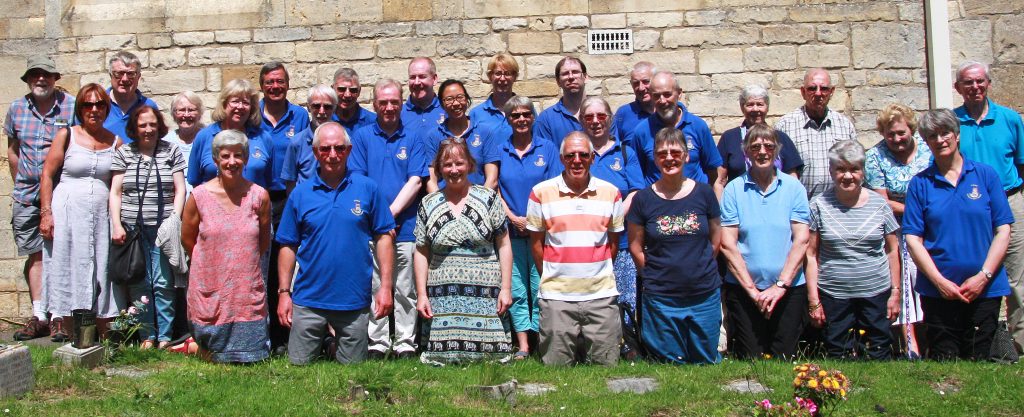 Chris Ridley very kindly offered to organise this year's outing as a one-day trip to the very attractive Regency city of Cheltenham. With family contacts at all the towers this was easy to do, but he said arranging the weather was harder – in the event it was a scorcher!
We started on the recently augmented ring at St Marks. What was a difficult and nearly unringable five are now a super easy going ring of eight. With nearly 30 ringers in our party, the ringing took some juggling but everybody had a decent go.
Leckhampton followed – an unusual chancel ring in full view of the church (tricky when ringing for weddings). However, we produced some good ringing on this nice little eight.
Charlton Kings, the last tower before lunch were a trickier proposition, but again everybody managed a good ring. We stopped a little bit early for the traditional group photo and then dispersed for our own lunch arrangements.
The highlight of the afternoon was undoubtedly the brand-new ring of 12 at Cheltenham Minster. The bells were completely recast and rehung in 2017, replacing the old worn out ring (some of the bells went to Keltek to be used elsewhere). We acquitted ourselves very well on the bells including a good course of Stedman Cinques.
The quiet pretty village of Compton Abdale was a contrast to the busy streets of Cheltenham. There is a pleasant ring of six on a small gallery so we took it in turns to have a ring there.
Finally the lovely little town of Northleach and the magnificent church of SS Peter and Paul built by wealthy wool merchants in the 15th century. The bells date from 1700 with two trebles added in 1897. They are not easy to ring but sound wonderful and were a fitting end to a wonderful day.
I must mention how well our learners did on the outing. They were all quite happily ringing rounds on all the rings today.  We all enjoyed the outing and thanks again to Chris for organising it.
Paul Flavell
Tower Captain