We were sent an email from a previous Kingston tower captain, Martin Lazell (1980) with a link to a fabulous old photo album of Kingston on the Kingston Heritage Service Flickr account: https://www.flickr.com/photos/kingstonmuseum/with/32102653026/
There are some fab photos on there, but two caught our eye, and we've been able to identify the ringers too. Read on!
Here's our detective work, thanks to Inspector Paul Flavell (our current tower captain), Inspector Alan Bagworth and Inspector Michael Uphill!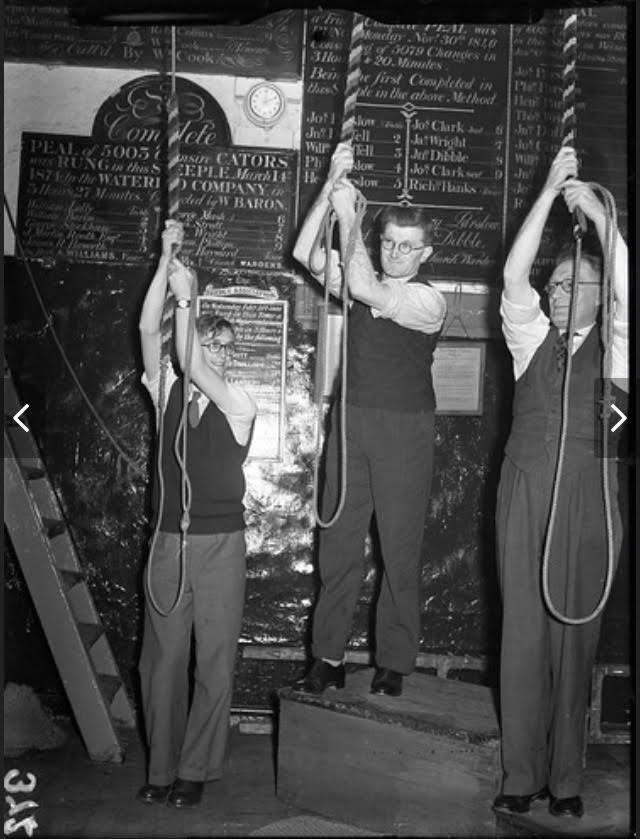 © Kingston Heritage Service
Source: https://www.flickr.com/photos/kingstonmuseum/31992719452/in/photostream/
The photo was taken in 1953 and according to the captain's board (see below), the tower captain was Frank Hawthorne.
Pictured: Brian Threlfall, Bill Morris and Frank Hawthorne.
This is the old anticlockwise 10 so the boxes for 9 and 10 are the other way round!
The old tenor was 27cwt – that's a huge box Bill Morris is standing on!
Curious to see all the existing pealboards but quite clearly in different places to where they are now.  I shall take a copy of this picture and try to identify all the pealboards in the photo. Not sure which wall we're looking at but we think it must be the (west) wall behind our current bells 3,4,5,6.  The ladder goes up into the same place as the existing trap door.
I wonder what happened to the clock?
The tank tops and waistcoats are typical of ringers of that period! I think we should reinstate them as our uniform – much smarter than our polo shirt, although I doubt they are very comfortable to ring in 😂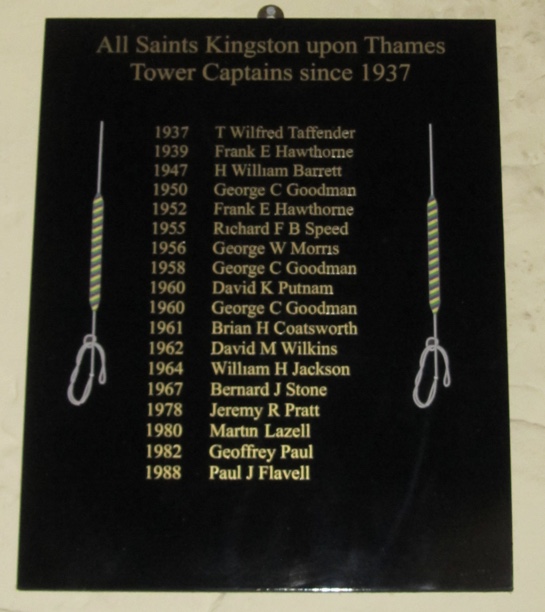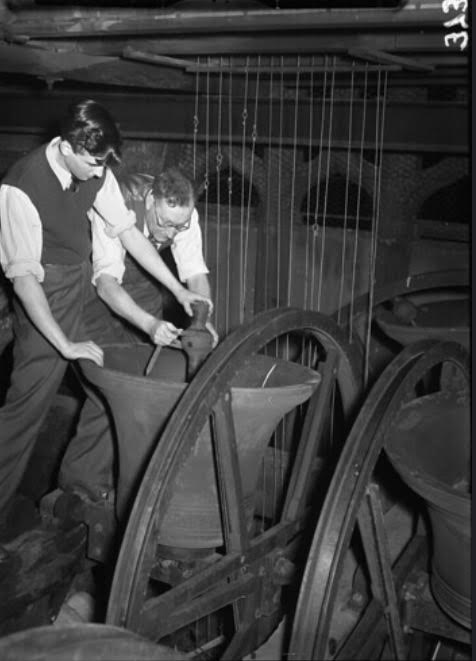 © Kingston Heritage Service
Source: https://www.flickr.com/photos/kingstonmuseum/32102653026/in/photostream/
Pictured: Brian Threlfall and Frank Hawthorne muffling the tenor.
Putting muffles on whilst the bells are up – this is very dangerous and we stopped doing it several years ago we hasten to add! Obviously health and safety standards have changed quite a lot over the years.
The wires in the background were probably how the carillon was originally connected to the hammers.
This was the original oak bell frame.
There is strong 'chicken wire' netting over the louvres to stop birds coming in.
There is a low ceiling over the bells which isn't there now.
If you spot any pictures of All Saints Church or Kingston bell ringers on your travels and internet searches, do send them on to us as we'd love to see them. And I've just gone down a rabbit hole searching the named ringers in the photos. More to come! And if you have any stories about these particular ringers or you're related to them, do get in touch. We'd love to hear your stories.